Diego lives! (At least a little bit…)
In the comments section, some readers had some questions about how long this bonus comic is going to continue and why I create bonus comics outside of the main story. This was my reply.
Over the weekend, I had a great time at the Webcomic Rampage in Austin, TX! I got to meet a real life Mitch who looked a lot like our Mitch (and who is now reading the comic), I got to eat some amazing food (including "sushi" made with steak and bacon), I got to hang out with some very cool creators I've known for some time like TJ and Amal's EK Weaver (and meet some awesome new creators, like Ngozi Ukazu of Check, Please who I fully expect to be ruling the world in the next couple years), and I got to meet a ton of our amazing readers, many of whom drove hundreds of miles just to say hi.
And one even made me something totally awesome to carry my books in: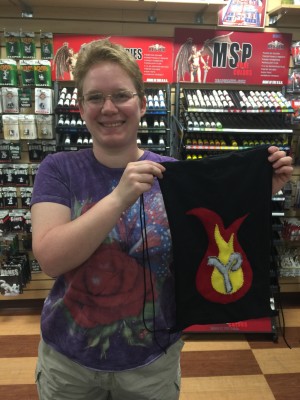 Isn't that totally cool? 😀 It was really a wonderful time and I am grateful to all of you who made it so special to me!
But my Con days aren't over yet! This weekend I'll be on the East Coast in Oaks, PA for Nijicon! Nijicon is billed as "a convention that is for all fans of male/male romance and other LGBTQ representations in various media, regardless of your own gender, sexual identity, ethnicity, etc."  I'll have Artifice books and advance copies of The Young Protectors books there as well as some very special new, sexy prints and cards. If you're nearby, please stop by and say hello!
So! The goggles come off! Things must be getting serious! Will Cory's power continue to expand out of control? Or will Flyboy be able to guide him back to the light? And what's going to happen to all those flying Benjamins? Surely these kids have time to grab at least a couple out of the air!
Tune in this Saturday to find out! Hope to see you there! 😀