Who are these comics for?
Well, you can of course use one of the Archive pages. But there are also a bunch of easy-to-remember keyboard commands that work on all the comic pages:
Left Arrow: Previous Page
Right Arrow: Next Page
Shift + Left Arrow: First Page
Shift + Right Arrow: Last Page
Shift + Down Arrow: Random Page
For a long time, that wasn't something this comic could do. But thanks the the generosity of the Patrons, I was able to update my webcomic software to make this possible. You just now need to add a special URL to a bookmark.
There are two URL choices, depending on whether you want to land on the preview page (the "most current page" for Patrons), or the the most current public page.
If you're not a Patron, this is the URL you need to bookmark:
https://youngprotectors.com/?webcomic_url=webcomic5-last--a:2:%7Bs:14:%22posts_per_page%22;s:1:%222%22;s:6:%22offset%22;s:1:%221%22;%7D
But if you are a $5+ Patron, and thus have access to the advance, Sneak Preview pages, this is the URL you need to bookmark:
https://youngprotectors.com/?webcomic_url=webcomic5-last
Now, just so we're clear, these are special URLs that acts like a computer command — it tells my Web site to take you to the most current page. You actually need to have that exact URL in your bookmark.
If you just enter it into your browser, it will take you to the most current page. When you use it, it will magically transform into the URL for the latest page of The Young Protectors. If you've waited until it's done that transformation before you create your bookmark — that is, if you actually use it to take you to the most current comic page and then try to add the bookmark– then it's too late. The only thing you're going to bookmark is that particular page of the comic, not this magical link that acts like a computer command that will transform into the most current page every time.
So, here's what you need to do.
Create a bookmark from any page. Doesn't matter which one because you're going to change it.
Once you've created that bookmark, go into your browser's bookmark manager
edit that bookmark
then copy-paste the special URL above to replace what's there.
When you save it, you should see that your edited bookmark's URL matches the URL above (the one with the "?" in it.)
On some browsers, there's an even easier method: right-click the URL above and Save As Bookmark.
Finally, if creating a bookmark with a special URL feels like too much, you can simply use one of the subscription methods I offer which will send you a link to the most current page whenever I update
No problem. Your fellow readers have created translations of some of the pages in their native language. Just click on the "Available Transcripts" drop-down menu underneath each comic page to see if there is a translation for your language.
(And are you fluent in both English and another language? Would you like to help your fellow readers by submitting translations? Email me and I'll set you up with an account.)
Reader discussion and speculation is a huge part of these comics, and we have one of the most thoughtful commenting communities around.
It's so special, in fact, that I've created two different ways to respond to the work.
The best way is to use  The Young Protectors Community forum site. It's offers a bunch of special features that make commenting fun and easy (and those are features that my legacy commenting system, Disqus, do not offer.)
To leave a comment on a page using the forum, first create an account by clicking the Sign Up button in the upper right of the Community site:
Then leave a response to any of the pages in the Page Updates category. Your reply will show up automatically under the page on this site.
You can also comment on a page by clicking this link below my note under the comic. It will take you to just the right Community post.
Alternatively, if you have a Disqus account, you can scroll down to the bottom of any page, and leave a comment using Disqus.
Both are excellent ways to join the discussion. I just find the Community site interface to be a lot more powerful.
Patreon is a form of crowdfunding, like Kickstarter, that has changed my life. Support from readers like you on Patreon has allowed me to quit my day job and work on these comics full-time. That's something I didn't think I'd ever be able to do.
With Kickstarter, you try to raise a huge amount of money in a short period of time to finish a specific project (like printing a book), but Patreon is different. Patreon does involve a bunch of regular folks getting together to make something happen—that's why it's "crowdfunding"—but instead each person pledging $25 one time, Patrons agree to pledge, like, $5/month to support a creator's ongoing work. Patreon accepts international currency, and Patrons can pledge any amount they like and they can stop and start anytime they like.
This has the huge benefit of giving me a predictable form of income every month. Thanks to the support of my readers I can honestly say I make my living as a writer now.
But there are also lots of benefits for being one of my Patrons.
In addition to being sent the regular updates a few minutes earlier than I post them here, all Patrons also get sent the thumbnail sketches, penciled pages, and script pages for each page. You get "back-stage" access to see how the pages come together, and inside information about what my intentions were for each page.
$5+ Patrons also get to read a page ahead of "Double-Cross" before anyone else.
All Patrons get access to a special series of short stories that I'm publishing that allow me to explore the characters' backstory. These stories answer questions like "Where Did Spooky Jones Get His Cap?", and "What Is It Like to Kiss Spooky Jones?"
And readers have really been digging those. Here are excerpts from the comments for that last short story:
"Ohhhh myyyyyyyy! Now that was certainly a wonderful diversion, and makes me want to know EVERYTHING about all three characters!"
"Oh Alex. Words are escaping me right now. I haven't enjoyed myself with written words like that in a long, long time. I could have read a thousand pages of that story in one sitting, food and water be damned!"
"I'm SO glad I didn't read that at work! I'm here at home fanning myself."
Patrons who pledge $5 or more get access to the Digital Rewards I created for The Young Protectors Kickstarter. These include special Full Monty rewards showing full frontal nudity of my adult characters, something that I don't show on the site.
$5+ Patrons also get to see special Patreon-only pin-ups, where readers get to vote if they want to see full nudity. (Spoiler alert: they usually do.) And I'm getting the chance to work with some really exciting new artists. Here's a Safe For Work sneak preview of the Full Monty The Annihilator pin-up that Rum-Locker painted: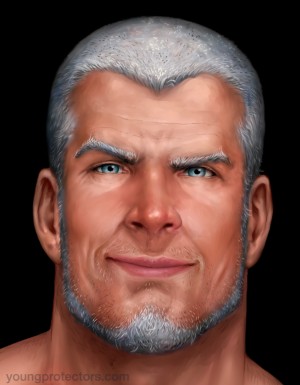 There are a lot of other benefits too, including (spoiler-free) sneak previews of future art, voting rights about what the next pin-up should be about, a special icon for your Disqus Avatar, and lots more. If you're curious, you can watch my video over at my Patreon page.
Alas, no. My artists are working professionals and I pay them a professional rate for their excellent work. The art costs for just the regular production pages of this webcomic are close to $3000/month. Add in other fees for running, maintaining and fixing my websites, and providing other Patreon rewards, we go well north over that. Also, remember that, Patreon fees + credit card fees take 10% right off the top. And, of course, there are taxes, just like for any other income. 
I can officially say I'm making my living as a writer, but the support just barely covers my living expenses here as a grown-up in the Bay Area who has grown-up responsibilities. It's not enough for me to apply to savings or pay off the debt I incurred before I started the Patreon Page. (Not yet, anyway.) (Edit 6/18/20: And in the current economic climate, I haven't been breaking even. Hopefully, that will change soon.)
But I certainly don't want to minimize how awesome this amazing support is! I know full-well this level of support is truly extraordinary and I am deeply, deeply grateful for how generous our readers are. And that support has been truly life-changing. Last year, I really wasn't sure I was going to be able to continue making comics. Now I can honestly say I make my living doing just that.
And, it is my hope that as the Patreon campaign grows, it will allow me start paying off the debt, and yes, even save some money. I don't see making these comics as a hobby. I'm in this for the long haul—this is my career. And with the support of cool readers like you through awesome new services like Patreon, that now feels more realistic than ever.
This is a really great time to be an independent content creator. And I have the best readers in the world. I feel very grateful.
Advice for Other Comic Creators
Link Exchanges and Fan-Sub Websites
No. I'm very flattered that you would want to put that amount of work into one of my comics, but for now, I only want the pages of my comic hosted on my site. 
If you'd really like to help make these comics more accessible to non-English speakers, please consider submitting translations to the "Available Translations" drop-down menu. (See the answer to the "I don't speak English." question above.)
I am very flattered by the thought of someone being so into my characters, story or world that they would take the time to create fan-art or fan-fiction. In fact, I'm very much for it! 🙂 I just have a few rules, so that everyone's hard work is honored and it doesn't hurt me financially or keep me from telling the stories I want to tell.
– Credit and a link to this site must always be included with the fan-art or fan-fiction and must be clearly visible to those who see or read your work. (A watermark on the art similar to what I add to my comic pages would be lovely.)
for The Young Protectors fan-fiction that credit should read:


Original The Young Protectors stories and characters by Alex Woolfson. © 2012-2020 Alex Woolfson. All Rights Reserved. https://youngprotectors.com/

for The Young Protectors fan-art that credit should read:


Original The Young Protectors stories and characters by Alex Woolfson. Original The Young Protectors character art and pencils by Adam DeKraker. Original The Young Protectors colors by Veronica Gandini. © 2012-2020 Alex Woolfson. All Rights Reserved. https://youngprotectors.com/

for Artifice fan-fiction that credit should read:


Original Artifice stories and characters by Alex Woolfson. © Alex Woolfson. All Rights Reserved. http://artificecomic.com/

for Artifice fan-art that credit should read:


Original Artifice stories and characters by Alex Woolfson. Original Artifice character art by Winona Nelson. © Alex Woolfson. All Rights Reserved. http://artificecomic.com/

if possible, the link should be "live", meaning it should be clickable and link back to this site
– No money should exchange hands. The art should not be placed on T-shirts or any other merchandise. It absolutely has to be non-commercial.
– If you would be unhappy in any way by my using any of your ideas in one of my future comics or stories or would expect to receive any compensation if I did so (you won't), you shouldn't create fan work for them. Period.
Even though I plot out my comics years in advance, you hear scary stories about fans suing creators for "copying" their ideas. While I would almost certainly win any legal battle in such a case, even the thought of it totally bums me out.
I relinquish none of the rights to my characters, stories or worlds. So if you would be unhappy in any way by my using any of your ideas in one of my comics or would expect to receive compensation for your efforts, you shouldn't create fan work for them. It's just that simple. (Instead, you should create your own original work, which I highly encourage! It's tons of fun!)
– I might post your fan art up on this site.
If I love it. And it's not too porny. And you give me permission and a way to credit you.
I'm not promising I will. But IMHO, the world needs to see more awesome guy-on-guy art, so I'd love to share the stuff that really moves me. 🙂
The best way to let me know about your fan-work would be to email me with a link. I'm likely to see that first and it's a great way to share it with other fans of Artifice and The Young Protectors.
Or you can just let me know in the comments on the latest webcomic page. I'm sure to see it there too. 🙂
Unsubscribing in your RSS reader and then resubscribing should fix the problem.
I'm using a caching plugin which makes the pages load a lot faster, especially when looking over comic pages you've loaded in your browser before. (Try it! Go back to some pages you've already read; they should just pop up.) The downside is, every now and then your browser can get confused and only part of the page loads.
The solution is simple, though—just reload the page. You can use your browser menu to View-Reload or just simply key in Control-R (or Command-R for Macs). That usually fixes it on the first try; pretty much always on the second try.
Heh. No. Again, it's your browser's caching which typically takes about 15 minutes to refresh on its own. You can wait the 15 minutes, you can find the link to the latest page on the Archives page or, if not seeing the Next button at the bottom of the now penultimate page is really wigging you out, you can just clear your browser's cache and refresh the page.