Sorry, Sausalito.
I'm currently tabling at Nijicon 2015 in Oaks, PA this weekend, October 24th and 25th, along with even cooler webcomic creators, including Starfighter's Hamlet Machine and  T.J. and Amal's creator E.K. Weaver! It's taking place at the Greater Philadelphia Expo Center at Oaks, 100 Station Avenue, Oaks, PA 19456. I'll have Artifice books and advance copies of The Young Protectors books and some very special new, sexy prints and cards. As you know, I don't get to the East Coast for Cons very often—if you're nearby, please stop by and say hello!
Over on the Patreon page, $5+ Patrons got to see something very special this week: a sexy, shirtless fireman pin-up of Kyle! Comments have included: "OMG. I don't mean to be crude, but that is an image that could keep me company for many long, cold nights…", "Dimples, treasure trail, musculature well defined, good skin tone, in other words, a stunning work of art.", "nice rendered muscles and such tight fitting boxers… pin-up calendar style: success!", and "all the little details that somehow raise him from 'just' a drawing to something 'more'… the attention to the details that builds up to this je ne sais quoi really sets this apart from even the other Romance Cards (that we've seen so far) as something truly special."
Here is a sneak preview of the pin-up: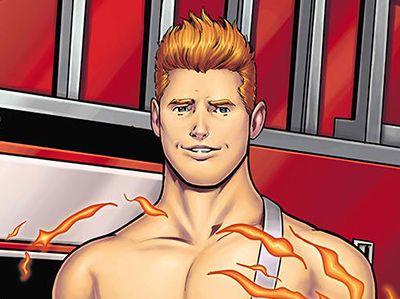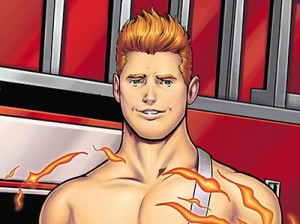 Look at that cute smile. 🙂
Also, $10+ Patrons will get to download a high-res version of this pin-up when this month's payments clear at the beginning of next month. And they'll also get to download a high-res of the NSFW version of this pin-up where the boxers come off!
There are lots of great benefits to being a Patron (you can see them all here along with an explanation of what the heck Patreon is), and you'd really be helping me out if you became one too. If you're enjoying our work here and would like to see it continue (and would like to get access to all kinds of special benefits),
please take a moment to watch the video on my Patreon page and consider becoming a Patron.
So. Wow. That telekinetic tornado is looking pretty, uh, out of control. And big. I'd be calling for a little backup right around now too. So, who's going to answer that call? How will they react when they learn what Flyboy's been up to? And what can even the full The Young Protectors team be able to do to stop Cory from ripping apart the whole city?
Tune in this Wednesday to find out! Hope to see you there! 😀