Woah…
I'm currently tabling at the Webcomic Rampage in Austin, TX this weekend, along with even cooler webcomic creators, including T.J. and Amal's creator E.K. Weaver! This mini-convention takes place at the legendary Dragon's Lair comic book store at 2438 West Anderson Lane and is completely free to attend. I'll have Artifice books and advance copies of The Young Protectors books and some very special new, sexy prints and cards. If you're nearby, please stop by and say hello!
Over at the Patreon page, $5+ backers just got a chance to enjoy seeing a special SFW Kyle-Anni pairing pin-up. Comments have included "A great piece of art work. Even though there are multiple artists working on various parts of the story line and 'bonus' offerings, it is amazing how seamlessly the various pieces blend together," "I have just decided — this is exactly how I want to see Paris when I eventually holiday there," and "I really enjoy these a lot!"
Here's a sneak preview of that pin-up: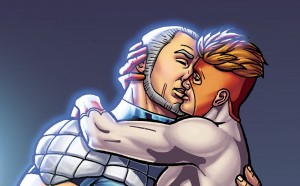 I wonder where that glow is coming from?
There are lots of great benefits to being a Patron (you can see them all here along with an explanation of what the heck Patreon is), and you'd really be helping me out if you became one too. If you're enjoying our work here and would like to see it continue (and would like to get access to all kinds of special benefits),
please take a moment to watch the video on my Patreon page and consider becoming a Patron.
So! Wow. Things are getting crazy. And Flyboy just took a big hit. Is he going to be OK? Are any of them going to be OK?!
Tune in this Wednesday to find out! Hope to see you there! 😀