What are you trying to say, Amanda?
Please note: These are work-in-progress colors. Vero should get me the final colors soon.
You can talk about this page at The Young Protectors Community here.
(Disqus comments are still at the bottom of this web page!)
New Store!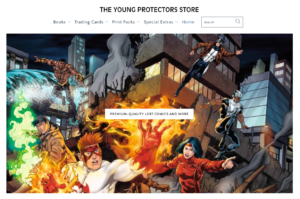 It's been a long time coming, but in preparation for the big advertising push I've got planned, I've finally updated my store. And I'm really happy with how it turned out! (Thank you to all the members of the Woolfpack who helped me test it out!)
You can find it here: https://store.youngprotectors.com
And I've created a special 10%-off discount for you in case you decide there's something you'd like. Just enter this code at checkout:
NEW-STORE
I've tried my best to make it easy and fun to use. Please let me know what you think in the comments! 🙂
New Final Colored Pages!
Thank you everyone for your patience during our week off. Now we're back with a new Preview Page! (It will be posted in color along with a new preview page on Wednesday. And then we'll be back to our usual 2x week schedule.)
First off, Vero has gotten me all the final, colored pages for Chapter 2—and they're gorgeous! The latest ones start on page 21. Definitely check those out!
Black Stories Matter
I also want to extend a big thank you to those folks who recommended stories with black heroes and made by black creators in the comments section. Instead of posting a laundry list here one time and not revisiting this topic again, I'd like to space things out a bit and just share a couple recommendations at a time. That way folks will actually be able to check each of these stories out, and I'll be able to keep promoting black creators and black heroes for a bit. 🙂
My first recommendations?
Black Lightning
Recommended by long-time reader Adam Black, I got a chance to check out the Black Lightning TV show on Netflix. And just as he said, it's very well done. Good acting, interesting plot and characters. As Adam put it "I think they understand they have to compete with racist TV expectations and have to make the Best possible Black Superhero TV show ,. every week lest it be judged unfairly on an off episode… Black Lightning has No Bad shows… Its consistently the Best quality acted/ written directed of all the arrowverse shows… Black Lightning is that Greatness and deserves fan support" .
Having watched the first five episodes, I agree. It dives right in with protests and violence against protesters, which makes for some intense viewing under the current circumstances, but that prescience is a good thing. And it's also just very compelling superhero story-telling with an almost exclusively black cast. It even prominently features a lesbian hero embraced by her family. I think readers of The Young Protectors should definitely check it out.
Fast Color
Also, Patron Angela S. recommended the 2019 feature release Fast Color saying "Fast Color is excellent. 3 generations of black women with super powers and struggles." The summary says "Hunted by mysterious forces and a local sheriff, a young woman with supernatural abilities flees back to her family-and unearths the depths of the power within her."  and the Amazon reviewers seem to love it with saying things like "Beautiful, Powerful",  " Really magical movie making" and "Superheroes we really do need."
I haven't been able to check it out yet, but if you have Amazon Prime in the U.S., you'll be able to watch it for free: https://www.amazon.com/Fast-Color-Gugu-Mbatha-Raw/dp/B07SZJ1MNR
Along with Black Lightning, Fast Color also seems right in our wheelhouse and I look forward to checking it out. If you get a chance to see it, please let me know what you think in the comments!
Anyway, those are the first two! I'll post more of your recommendations next time. And please feel free to share more recommendations of stories with black heroes by black creators in the comments! 🙂
ANNIVERSARY PATRON THANK YOUS
Your continued support has always been the reason I've been able to continue making this comic. And I am especially grateful to our readers who continue to support this comic month-after-month during this time. Thank you for letting me continue to create these pages. Thank you for being the real superheroes of this comic.
And so, I hope everyone will please join me in wishing a very special Woolfpack anniversary "thank you!" to those Patrons who have been supporting our work for a year or more!"
First let me thank pack members who have been supporting our work for the last 12 months as of this week (June 14-27):
Not Siouxsie, Papa G. and Alwin H.
(You totally rock, Not Siouxsie, Papa and Alwin!)
I'd like to send out a big thank you to members of the Woolfpack who have been supporting our work for 24 months of this week (June 14-27):
Ryan, Siryanna L., Joseph R. and Malik W.
(Two years of support! Thank you so much, Ryan, Siryanna, Joseph and Malik!)
And a heroic thank you as well as for Woolfpack members who have been supporting our work for 36 months of this week (June 14-27):
Axeron, Bibliocharylodis, Cuarzo, Marcus B., William C.,Mark D., Jeremy E., Liren F., Robert M. and John S.
(Three years of support! Thank you so much, Axeron, Bibliocharylodis, Cuarzo, Marcus, Bill,Mark, Jeremy, Liren, Robert and John!)
And let me also send out my biggest howl to those members of the Woolfpack who have been supporting this comic and our work from the very beginning!
These are the awesome readers who have been supporting me and this comic for 60 months (5 years!) as of this week (June 14-27):
JWT, Klaus and Will T.
Thank you so much, JWT, Klaus and Will! Y'all are so awesome!
Thank you all so much for your amazing, ongoing support! It's the consistent support that is what really allows me to continue making this comic. You all truly are superheroes!
(Would you like to make sure this comic continues? Ready to dive even deeper into The Young Protectors world? Learn more about all the benefits of joining me and your fellow readers as part of The Young Protectors tribe on Patreon and then join the fun!)
S
o
!
So! Spooky's ready to race on down there, but Flyboy is able to rein him in… for now! Meanwhile, young Amanda starts to reveal some of the superhero chops that will make her into the powerful woman we know. And oh, by the way, the whole setup looks like it's a trap! Right?
Is it a trap? Should our heroes just walk away? And if not, what should they do?
Tune in this Saturday to find out! Hope to see you there! 😀