Stop beaming all that sunshine, Kanya—you'll give the boys a burn!
Last week, I shared the SFW Version of The Annihilator's Romance Pin-Up with $5+ Patrons!
Comments for that have included: "Ahhh The Duncanator with his first and true love!", "I love this picture…. he looks so damn sexy! Adam and Alex providing another stellar piece of art. Thanks as always Alex and team!! :)",  and "These images are so darn fun AND sexy. My favorite combo-platter. Great stuff!"
Here's a sneak peek of that: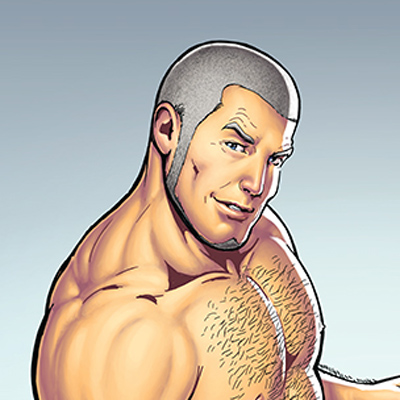 What is this man smiling about?
Folks who join right now will be able to download the full wallpaper for this. Also, $10+ Patrons will get to download a high-res version of this pin-up (with over double the resolution!) when this month's payments clear at the beginning of next month. And they'll also get to download a high-res of the NSFW version of this pin-up where the boxers come off!
There are lots of great benefits to being a Patron (you can see them all here along with an explanation of what the heck Patreon is), and you'd really be helping me out if you became one too. If you're enjoying our work here and would like to see it continue (and would like to get access to all kinds of special benefits),
please take a moment to watch the video on my Patreon page and consider becoming a Patron.
So! They got back to Diego in time—so far! But now Kanya's pointing out some hard truths. How is Flyboy going to react? How is Cory going to react? And how much time does Diego have left?
Tune in this Saturday to find out! Hope to see you there! 😀