Looks like The Platinum Priestess has got her hands full. 🙂
Over on my Patreon page, $5+ Patrons were sent TWO brand new Young Protectors pin-ups with art that has never been seen before. One is a Safe-for-Work image by Silverjow featuring Tsunami, and the other is a very NSFW image with linework by Stephen Sadowski featuring Spooky and Kyle getting it on in a steam room (and it's more NSFW than anything I've ever done before.)
Comments have included: "Ok, that Tsunami one is just delicious. I mean wow!! And who knew that Spooky was so handsy. 😛 Love it!", "Holy crap!!! Those are both amazing works of art. Good thing Tsunami is surrounded by water, because I'll need that to cool myself down!", "That Tsunami is really sexy. I'm not that into guys where muscles are THIS chiseled, but art is gorgeous.",  "Okay I have highly articulate thing to say about Spooky and Kyle… Grndrglrsfuuslebecktsorsanaaaaaahgh. OMG is that yummy." and "I like them fooling around in such a very typical Spooky way.  Aaaand that 'thing' that is hard to miss – really, really hard..  XD Holy moly. Bow-dicka-wow-wow!"
Here is a preview image of the Tsunami pin-up: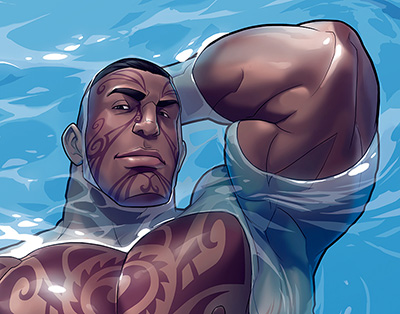 $5+ Patrons (even brand new ones!) can download a digital wallpaper of the full image immediately here. They also can immediately download a full version of the very NSFW Spooky-Kyle steamroom pin-up. Folks who pledge $10 or more before the end of June will be sent high-res versions of both images with over double the resolution on the 10th of August.
There are lots of great benefits to being a Patron (you can see them all here along with an explanation of what the heck Patreon is), and you'd really be helping me out if you became one too. (The only reason I'm able to make this comic at all is because of the awesome support I've gotten on Patreon.) If you're enjoying our work here and would like to see it continue (and would like to get access to all kinds of special benefits),
please take a moment to watch the video on my Patreon page and consider becoming a Patron.
So! Looks like Flyboy's taken out the remaining minions, so it's all hands on deck to defeat The Platinum Priestess! Will the full team's effort be enough without Spooky? Or does Sircea have another trick or two up her snow-white sleeves?
Tune in this Wednesday to find out! Hope to see you there! 😀