Spooky just reached out to hold Flyboy's hand! OMG! That's so sweet! I totally ship them now!
This week $5+ Patreon got to see a different side of Chapter 1 anti-heroes Hunter and Killer—the sexy side! Comments have included: "That card made my day. it is hysterical and makes me happy.", and "I was looking forward to this card the most. They're so cute together! :)" and "The ponytail holder matches the green on the briefs and that just makes me happy for some reason?  Also, obligatory curiosity about how far all that robot stuff extends."
Check it out!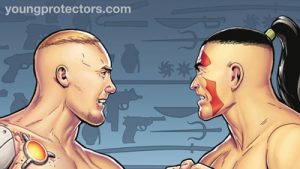 Hey, there, bro…
$5+ Patrons get to download the full image on Patreon immediately. $10+ Patrons will get sent a high-res version of the image with over double the resolution!
There are lots of great benefits to being a Patron (you can see them all here along with an explanation of what the heck Patreon is), and you'd really be helping me out if you became one too. If you're enjoying our work here and would like to see it continue (and would like to get access to all kinds of special benefits),
please take a moment to watch the video on my Patreon page and consider becoming a Patron.
So! The group springs into action, fists out! Will they be able to punch their way through those mean-looking minions? What is Fluke grabbing off the ground there? And did Spooky get his healing hands to Flyboy in time?
Tune in this Wednesday to find out! Hope to see you there! 🙂