BOOM!
I had an amazingly good time at Emerald City Comic Con. Lots of readers stopped by to let me know how much they were enjoying the comic. And then there was this awesome reader who came in Spooky cosplay: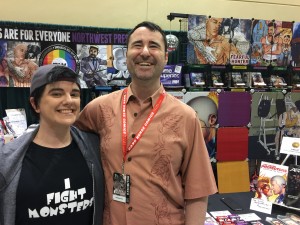 I love that T-shirt! 😀
Thank you to everyone who stopped by to say hi. Y'all made me feel like a total rock star. And I'm again reminded just how wonderful our community is here. We really do have the best readers in comics. 🙂
Kickstarter rewards have started shipping to the original backers, but there is still time to join in the big shipping push and pre-order a copy of The Young Protectors Volume One and other Kickstarter rewards. Watch this video for more information about that. I'll be receiving the 11″ x 14″ print packs from the printer at the end of April—so there's still time to save up for those if you'd like one. But I now have everything else, and I'll be shipping rewards that don't include prints over the next month, so if you just want a book, now would be a great time to pre-order.
So! Looks like Fluke's powers are in full-force! Will our heroes be able to capitalize on this new development?
Tune in this Saturday to find out! Hope to see you there! 😀