Lady, I think you might have pushed Kyle one step too far…
And y'all are UNSTOPPABLE, leaping over tall buildings over at the Patreon Page! Since the last update, y'all have blasted through still another Milestone Goal (!), raising your support by $540/month (!!!) to $6142/month! That's less than $900 away from me being able to make comics for y'all full-time! My jaw is on the floor. Y'all are simply incredible. Thank you so, so much!
So, thanks to the generous support of the Patrons, I'll now be including my Script pages along with the Thumbnail Pages and the Penciled Pages for Patrons with each update—for a complete behind-the-scenes look at how these pages come together! Wondering what Adam gets before he starts making art? Curious what my original intentions were with each page? Now you'll know!
But of course, that's not all!
The $5000/month Milestone Goal unlocked a fully-nude, full-color Full-Monty The Annihilator Pin-Up as a Special Digital Reward for those pledging $5 or more. It's a very special painting by a new addition to our team, Rum-Locker! You get to see everything. How big our man Duncan is. Whether he is cut or uncut. And why Kyle had the reaction he did when he first saw The Annihilator naked. I do believe our man Duncan was largely responsible for the huge surge of new Patrons over the weekend (almost 100!), and those people were not disappointed.
Here again is a Safe For Work sneak peek: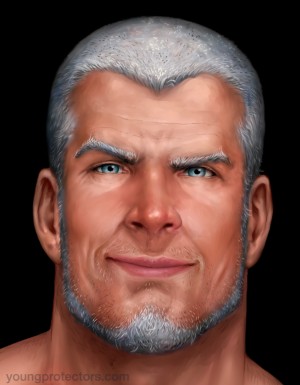 The full-body, fully nude painted version of The Annihilator is posted right now as a Special Digital Reward under the Creations tab over at my Patreon Page. Whether you want to use it for a wallpaper for your phone, or would prefer instead to print it out and throw darts at it, I'll tell you one thing: you won't be disappointed with the art. This one is truly something special. 🙂
But wait, there's still more!
Right now, sexy Annihilator is doing his sexy walk over sexy, pure black. And yes, that's pretty cool. But I thought, wouldn't it be neat if that portrait of him had a background? If we put him in an actual location? Something that would help spark the imagination of where he's walking and why? Well, I've commissioned Rum-Locker to create a background for The Full Monty Annihilator. He had a great idea for what the background could be, he had time to do it while he's working on a little something else for me, and I think it'll be just enough to spark your imagination and add to the fun. And if we hit the $6500/month Milestone Goal, I'll post that beautiful scene up as another Special Digital Reward that you'd be able to download as a new wallpaper!
And there's still more!
The $5250/month Milestone Goal was a longer short story answering the question "What does it feel like to kiss Spooky Jones?" And, as I followed the truth of that story, it got kinda steamy. OK, very steamy. And people seemed to like what they read. Here are excerpts from the comments: "Ohhhh myyyyyyyy! Now that was certainly a wonderful diversion, and makes me want to know EVERYTHING about all three characters!", "Oh Alex. Words are escaping me right now. I haven't enjoyed myself with written words like that in a long, long time. I could have read a thousand pages of that story in one sitting, food and water be damned!", and "I'm SO glad I didn't read that at work! I'm here at home fanning myself." Wondering what all the fuss is about? Want to feel some Spooky love? The story is up on the Patreon page right now for all Patrons to read.
Of course, an earlier Milestone Goal allowed me to start posting up the NSFW Full-Monty Digital Kickstarter Rewards as Special Digital Rewards. This full-color, "Full Monty" art shows full-frontal nudity of the adult characters of The Young Protectors, something that I'd never show on this site. The first thing I posted up was the Sexy Height Chart of the Guys, which shows all the male members of The Young Protectors team lined up by height. Curious how our boys measure up? Wondering who's cut and who isn't? Now you can find out! 🙂 (But you'll have to act quickly, because unlike the other rewards, I'm only going to be keeping NSFW rewards on the Patreon Page for 60 days before removing them.)
If you become a Patron now and choose to receive the Special Digital Rewards, you will be able to download a wallpaper version of the Sexy Height Chart. You'll also be able enjoy all the other rewards so far posted, including the "How Spooky Got His Cap" short story that folks have liked so much. And, of course, Patrons who chose to get the Special Digital Rewards (which is the vast majority) continue to receive Digital Kickstarter Rewards every Wednesday and get to see special Sneak Previews on Sunday.
Over 800 of you have already become Patrons in the last six weeks. There are lots of great benefits to being a Patron, and you'd really be helping me out if you became one too. If you're enjoying our work here and would like to see it continue (and would like to get access to all kinds of special benefits!),
please take a moment to watch the video on my Patreon page and consider becoming a Patron. 🙂
So! Spooky's evening goes from bad to worse. The Platinum Priestess misses her mark. And Kyle responds with an attack that's sure to leave a mark! (Using some rather evocative language for the son of a demon…) The Annihilator already discovered that it's dangerous to make Kyle angry. Could Sircea be about to be taught a lesson of her own?
Tune in this Saturday to find out! Hope to see you there! 😀