Look at those cute smiles. Could Amanda actually be getting into this game?
Thank you to everyone for your Happy Birthday wishes and the amazing Patreon support! We added a bunch of new Patrons over the last few days and are now at over $7750/month in support! You all rock!
And I've just added two new Milestone Goals, featuring a brand new Full Monty painting of Tsunami by artist Marccus!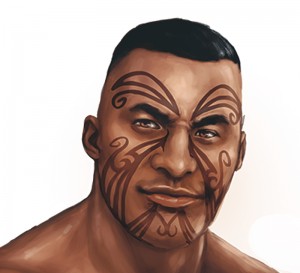 If we hit $8000/month, $5+/month Patrons will get to download a wallpaper revealing his whole body in all its muscular, tattooed Full Monty glory and if we hit $8250/month, I'll post up a link to another wallpaper which adds a beautiful background to show the context of why the big guy is naked (and, trust me, it really is quite pretty and adds a lot to the painting.) And if we hit those Milestone Goals, $10+ Patrons will get sent high-res versions of both images once their payments are processed at the end of the month.
Marccus has done a beautiful job rendering our grumpy, but oh so sexy water bender. You definitely won't want to miss it!
Also, when the Patrons hit $7500/month in Patreon support, they unlocked a sexy, new wallpaper pin-up — a World Spanning Wallpaper! Using the first voting link I sent, they were able to choose the first half of a sexy pairing from the major (and a few of the minor) characters from any of my comics!
Well, the votes are in for the first half of the pairing! 371 of you participated and Kyle, the hero of The Young Protectors, is the winner! And he just barely edged out Deacon — Kyle had 87 votes, Deacon had 86!  (You can see the complete results from the last vote here.)
But now Patrons get to decide who they want to see Kyle with! And currently Deacon and Spooky Jones are neck-and-neck. Want to help determine the outcome (and get to enjoy the results)? Voting is open until Friday, May 8th at 11:45 PM PST and new Patrons get to vote! 🙂
If you become a Patron now and choose to receive the Special Digital Rewards, you will be able to download wallpaper versions of the Full Monty Annihilator Pin-Ups, the Full Monty Spooky Romance Card Pin-Up as well the Sexy Height Chart which shows the male members of the team. You'll also be able enjoy all the other rewards so far posted, including the "How Spooky Got His Cap" and "What Is It Like To Kiss Spooky?" short stories that folks have liked so much. This is in addition to special back-stage access to script pages, thumbnail pages and penciled pages for all new updates. And, of course, Patrons who chose to get the Special Digital Rewards (which is the vast majority) continue to receive Digital Kickstarter Rewards every Wednesday and get to see special Sneak Previews on Sunday.
Over 1050 of you have already become Patrons in the last few months. There are lots of great benefits to being a Patron, and you'd really be helping me out if you became one too. If you're enjoying our work here and would like to see it continue (and would like to get access to all kinds of special benefits!),
please take a moment to watch the video on my Patreon page and consider becoming a Patron. 🙂
So! Spooky is on deck to ask the next Truth or Dare question — and he's chosen Commander! Will she choose Truth or Dare? And if she chooses Truth, what will he ask her?
Tune in this Wednesday to find out! Hope to see you there! 😀