Don't beat around the bush, Mitch. Just ask him whatever's on your mind…
In Patreon news, $5+ Patrons are already going to get to download a hot, nude Annihilator pin-up at the end of this month. And this week I shared a sweet and sexy pin-up of Flyboy's very first kiss — and it's with Cory!
And people are loving it! Comments have included: 'This is just perfect. So sweet and innocent and spontaneous. Such a sweet expression of young love that it just makes me want to hug someone.", "I absolutely plan to make this my Desktop BG", "Okay, that's as adorbs as it gets. I want to be 15 again… IF I can be Mitch (with a Cory)", "While the art is, of course, of the highest quality, I find myself fascinated by the shading on their bodies, especially that one spot on Cory's neck (go there next, Mitch! 😉 ) Truly exceptional work all around."
Here's a sneak preview of that: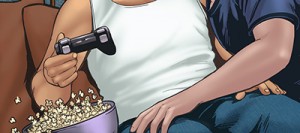 Who's going to clean up that popcorn?
Folks who join right now will get to enjoy this kiss and be able to download the full wallpaper for this. (They'll also get to download that fully nude Annihilator pin-up after payments clear at the end of the month.)
There are lots of great benefits to being a Patron (you can see them all here along with an explanation of what the heck Patreon is), and you'd really be helping me out if you became one too. If you're enjoying our work here and would like to see it continue (and would like to get access to all kinds of special benefits),
please take a moment to watch the video on my Patreon page and consider becoming a Patron.
So! Did Mitch just say he told his Dad what happened? What did Cory think their next meeting was going to be like? And what was he doing with Diego?
Tune in this Wednesday to find out! Hope to see you there! 😀
P.S. Happy birthday wishes to long-time reader Klaus! Thank you for being such an awesome member of our community! 🙂