Up, up, and away!
OK! A couple fun things:
First off, in addition to the SFW romantic image of Kyle and The Annihilator that $5+ Patrons are already getting this month, they are now also getting a very sexy, fully nude NSFW Kyle-Annihilator pin-up by fan-favorite artist Marccus—and it's one of the sexiest paintings I've ever commissioned!
Comments have included: "God! That is so hot! Seriously, I need a fan. I can't wait to see the whole pic", "OMG this is awesome!",  and "Having seen the full image via Kickstarter reward, I can say that it is very hot and worth every dollar. Marccus has done a great job. It's …ohlalaaa."
Here's a sneak preview: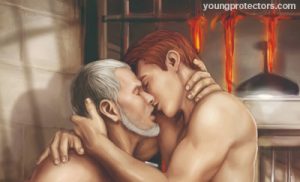 Usually people try to break OUT of jail…
This seriously is a gorgeous pin-up, easily one of my most favorites. Patrons pledging $5 or more in May (including brand new Patrons!) will get sent the full, smoking hot image by the 10th of June. $10+ Patrons will get sent a high-res version of the image with over double the resolution! (And this will be in addition to the SFW pairing image they are already getting!)
There are lots of great benefits to being a Patron (you can see them all here along with an explanation of what the heck Patreon is), and you'd really be helping me out if you became one too. If you're enjoying our work here and would like to see it continue (and would like to get access to all kinds of special benefits),
please take a moment to watch the video on my Patreon page and consider becoming a Patron.

Also, in other fun news, one of our awesome readers was inspired by the most recent, furry edition to The Young Protectors family and asked my permission to create a fan-shirt for her own personal use. And it turned out really cool — you should check it out! It looks awesome!
So! Fluke is now out of The Annihilator's reach, but the rest of The Young Protectors and The Platinum Priestess are still in a spot of trouble. Are they truly outmatched? And that will The Annihilator do now?
Tune in this Saturday to find out! Hope to see you there! 😀