I get the feeling that Commander really enjoys her day job…
This week $5+ Patreon got to see a sweet, romantic image of The Annihilator and Kyle "cuddling." Comments have included: "Aw…too sweet!", and "the art is awesome as ever and I really love this! It grants a little hope for our two sweeties :)"
Check out this sneak preview!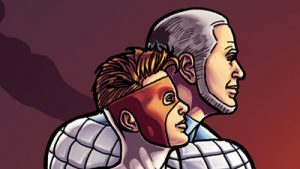 What a view…
$5+ Patrons get to download the full image on Patreon immediately. $10+ Patrons will get sent a high-res version of the image with over double the resolution!
There are lots of great benefits to being a Patron (you can see them all here along with an explanation of what the heck Patreon is), and you'd really be helping me out if you became one too. If you're enjoying our work here and would like to see it continue (and would like to get access to all kinds of special benefits),
please take a moment to watch the video on my Patreon page and consider becoming a Patron.
So! Score one point for Fluke, and ten points for Not-A-Bear! Are our villains truly down for the count? Or are they just getting their second wind?
Tune in this Wednesday to find out! Hope to see you there! 😀