Gosh, Gordon, I didn't know you had it in you…
Last month, over on the Patreon Page, I posted an extra special Flashback Friday with a beautiful, fully-painted, and fully nude, pin-up of The Annihilator.
Well, this month, The Platinum Priestess gets her moment in the spotlight! She's got her clothes on, but she still makes a very powerful impression. Here's a sneak preview of her pin-up: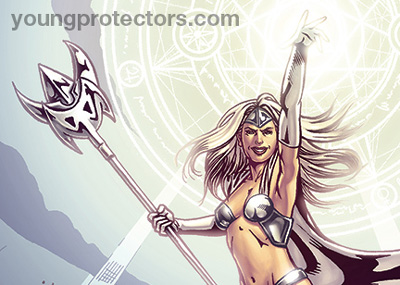 Dangerous AND fabulous!
$5+ Patrons can download the full pin-up immediately. And $10+ Patrons will be sent a high-res version with over double the resolution on the 10th of April!
There are lots of great benefits to being a Patron (you can see them all here along with an explanation of what the heck Patreon is), and you'd really be helping me out if you became one too. If you're enjoying our work here and would like to see it continue (and would like to get access to all kinds of special benefits),
please take a moment to watch the video on my Patreon page and consider becoming a Patron.
So! Gordon just sent Kyle lots of love. But Laampros is having none of it. And Tsunami looks pretty well cooked as it is. Will these warm fuzzies be able to get through to Kyle? Or will his father prove to him that hate can be stronger than love?
Tune in this Wednesday to find out! Hope to see you there!