Now that's just mean!
Over on the Patreon page, I've just posted something I've very excited about. So far, the boys of The Young Protectors have gotten a lot of love with our Patreon pin-ups. But there are a ton of Commander fans out there, and one of my most frequent requests is for a new Commander pin-up.
Well, I love Commander too, so I decided to commission painter Ren Tu to create a fun, new action scene with the leader of The Young Protectors—and I think he knocked it out of the park! Take a look at the sneak preview: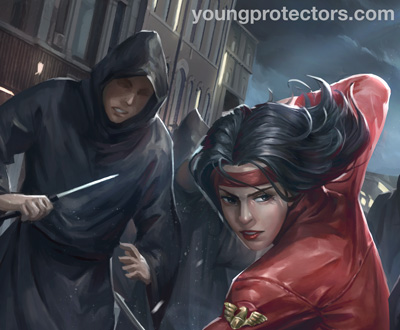 Patrons seeing the full image have said: "Holy smokes she looks SO awesome!!!!!!!!", "I love the color choice and the lighting.  It's really wonderful!",  and "…loving Ren Tu's style, and the Commander looks so badass!"
$5+ Patrons can download the full mobile wallpaper version of the pin-up immediately, and $10+ Patrons will be sent a high-res version with over double the resolution on the 10th of January.
And that's in addition to the incredible fully nude, Full Monty Annihilator painting by Rum Locker!
Here's an image of all of February's rewards: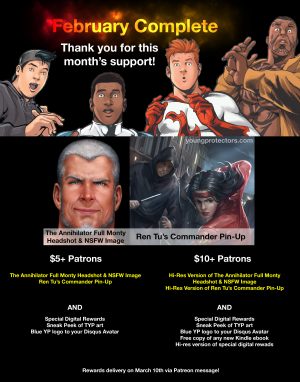 All of these pin-up rewards will only be available for the next month.
There are lots of great benefits to being a Patron (you can see them all here along with an explanation of what the heck Patreon is), and you'd really be helping me out if you became one too. If you're enjoying our work here and would like to see it continue (and would like to get access to all kinds of special benefits),
please take a moment to watch the video on my Patreon page and consider becoming a Patron.
So! Kyle has his father on his heels, but dear old Dad is now trying to use his son's memories against him! What affect will this have on our firebending hero? What other secrets will we learn? And gosh, can Young Kyle look any more adorable?
Tune in this Saturday to find out! Hope to see you there! 😀